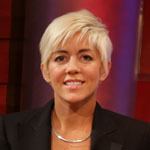 Kelly Muir has been involved in Martial Arts for over 35 years. Training since the age of 9, she holds a Master Level certification in both Shorin-Ryu Karate and Korean Tae Kwon Do. She was an Olympic Committee sponsored athlete until she opened her own Martial Arts Training Center in 1992. A pioneering force in the development of curriculum for martial art centers, her innovative teaching style has been featured in many Magazines and industry journals. She is also the author of "Instructor Revolution", a book designed to help instructors become more effective at teaching children traditional martial art skills.
In 2012, She was inducted into the Black Belt Magazine Hall of Fame for her contributions to the Martial Arts. In addition to running Excel Karate Systems, she is a columnist for Black Belt Magazine and a contributor for The Personal Defense Network.
Instructor Revolution
In 2011, Kelly authored and published Instructor Revolution: A Superior Method of Teaching Children Martial Arts. And the book's stated intent is indeed revolutionary:
After becoming an industry leader in the 1990s and running successful schools in California, Kelly left the industry for a short term to go into corporate training. While away, she had time to reflect on the programs she had been running and realized that, although they were well respected and successful by all traditional measures, she felt that something was lacking. That something turned out to be Integrity. Kelly opened Team Karate Center Columbus in 2004 with a plan to teach traditional Okinawan Karate to children in a strict, empowering and practical environment. No false praise, no emphasis on the
parent experience in the waiting area, No 36-month Black Belt children. At the end of 2010, TKCC offered their first Junior Black Belt Test. Amazingly, half of the students at that test had been with Kelly for over five years. In a world where some children are being awarded full Black Belt ranks in less than three years, Kelly had proved that a successful business could be built on a program with integrity that explained to children that earning their Junior Black Belt after many years of hard work simply meant that they could entertain further work and study for the chance to take a Full Black Belt Test.
Wrong Woman
Muir is also the founder and lead instructor of Wrong Woman™, the first comprehensive intuitive self-defense program designed by a woman for all women, regardless of age, fitness level or risk factors. The four-session Wrong Woman™ Fundamentals Course was designed by Kelly to raise participants' awareness of the types of threats they may face, the choices they can make in life to keep themselves safe, types of defensive tools they might consider owning and learning how to use, and some of the fundamental unarmed defensive skills they can use in a worst-case scenario. This is followed by detailed and challenging follow-on classes in a variety of areas, including Self Defense WIthin Two Arms Reach, Electrical & Chemical Defensive Tools, Introduction to Defensive Firearms, and Personal Risk Assessment & Intuitive Decision Making.