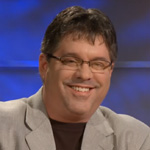 Mark Walters began penning The Ordinary Guy column as a regular contributor to Concealed Carry Magazine near ten years ago and now authors the regular column "One to the Head". As a freelance writer for a local industrial trade publication and a vocal second amendment activist in Tampa, Florida, Mark's letters and opinions appeared many times in the Tampa Tribune. His book, Lessons From Armed America, co-written with Kathy Jackson ( forward by Massad Ayoob), was released in October 2009 by Whitefeather Press and highlights the stories of those who found found themselves the victims of violent crime and either used a gun or wished they had one when they needed it most, including his own story.
In November of 2002 just two weeks after the birth of his daughter Lindsey, Mark found himself the secondary intended victim of an attempted carjacking while approaching a traffic light on E. Fletcher Ave. in the Suitcase City section of Tampa, FL. Luckily on that November morning he was carrying a Glock 36, 45 caliber handgun. When the criminals… both of them…found themselves unable to get into the vehicle stopped just off of his left bumper, they turned their attention to him.
Watching the frightening events unfold in front of him and happening at a frantic pace, Mark un-holstered his weapon and leveled his 45 at the criminal standing just feet away from him and approaching his vehicle. When confronted with a gun pointed directly at his chest, the closest attacker waved off his partner and both men retreated to their vehicle.
That frightening experience became the subject of his first column with Concealed Carry Magazine titled "The Importance of Carrying Your Gun 100% of The Time", now listed as one of Concealed Carry Magazines "Best of".
Since that time, Mark writes about ordinary folks like you and I who have used a weapon to defend themselves as well as interviewing some of the nations biggest news makers and activists as well as hard hitting political commentary on the days current firearm news. The list of folks Mark speaks with includes rock stars, country singers, radio personalities, national and local politicians, TV stars, internationally recognized trainers, weapons experts, criminal psychologists, television hosts, authors, real people who have used a firearm to defend themselves against violent attack and regular, ordinary folks who make a difference.
Mark was one of the headline speakers at the Second Amendment March in Washington, DC on April 19th, 2010 joining other guests such as Suzanna Hupp, Sheriff Mack, Dick Heller, Mancow, and others who proudly proclaimed the birthright of every American to keep and bear arms. He has appeared countless times as a guest on local and national radio shows including the Mike Gallagher Show, Bill Bennet's Morning in America, The Michael Medved Show, Dennis Prager, Hugh Hewitt and many others including a co-hosting appearance on the nationally syndicated G. Gordon Liddy show. In addition, Mark was a guest on Fox Businees Channel's The Stossel Show, with John Stossel to discuss the topic of More Guns, Less Crime and appeared weekly as a guest on the popular live web TV program, American Trigger Sports Network with host James Towle to discuss the right to self-defense every Wednesday afternoon at www.atsn.tv.
Mark is a member of the NRA, an NRA Certified Instructor in three disciplines, a member of the National Shooting Sports Foundation as well as a card carrying member of GeorgiaCarry.org,the Gun Owners of America and a vocal 2nd amendment activist. In the spare time of his "real life," he ran his own successful business for over 13 years and now works full time to bring you Armed American Radio.
Mark defends our freedoms on AAR with the RIGHT voice at the RIGHT time and brings a frank discussion of the right to defend your life to FREEDOM loving Americans EVERY week.