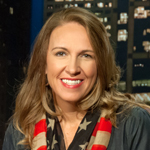 Dianna Muller received a Bachelor of Science in Criminal Justice/Psychology from University of Central Missouri, 1992. Dianna recently retired from the Tulsa Police Department after 22 years of service. Her assignments included patrol, Street Crimes, Narcotics, and Gangs.
Although her family hobby was horse shows and barrel racing, her father introduced her to USPSA in high school. After starting a life and career in Tulsa, she pursued barrel racing until she found 3 gun in 2009. By 2011, she sold her farm and all of her horses to focus on 3 gun and the 2nd Amendment. "I was intrigued with 3 gun since, as a police officer, I relied on all three platforms at work. The game hooked me, but I fell in love with the people!" Since returning to competition in 2009, Dianna has earned a plethora of High Lady wins, including the 2013 USPSA Ladies Open National Championship. 3 Gun Nation offers the largest purses in history for a competition shooter, 50k for men and 25k for women. Dianna has been in the ladies finals shoot-off every year since its inception in 2012. She has also competed for the USA in two Pan-American Shotgun matches.
Dianna has been highlighted by the NRA in "American Warrior", the Washington Post and NRA Women. She is a regular on "Shooting Gallery" and "3 Gun Nation". She has a passion to introduce shooting sports, and showcase gun owners and the 2nd Amendment in a positive light.
Dianna is preparing for 2015 as she focuses on a new career in the firearms industry as a pro shooter and personality. She has been named captain of Team Benelli. Not only will she continue to compete, but Team Benelli will have a training component and she is looking forward to passing on the sport. Look for Dianna and her husband, Ryan Muller, to be highlighted on three episodes of "Shooting Gallery" airing in 2015. Both will continue to film 2016 episodes.